GET TO KNOW GIORGOS
GIORGOS KORRES, KORRES FOUNDER
Still introducing himself as a pharmacist, Giorgos Korres smiles when called an entrepreneur or businessman. He grew up playing pharmacist behind his mother's pharmacy counter where one day he announced that he would soon be making his own face creams.
He was only 8. Over a decade later, and while still a Pharmacy student at the University of Athens, he started working at the oldest herbal apothecary of Greece. This pharmacy would become the springboard for diving deep into the endless powers of nature. In 1992 the pharmacy was passed on to Giorgos who spent the next five years setting up a Homeopathy Remedies Laboratory, following the standards set by leading European homeopathic labs at the time.
This is the beginning of the KORRES story.

GET TO KNOW GIORGOS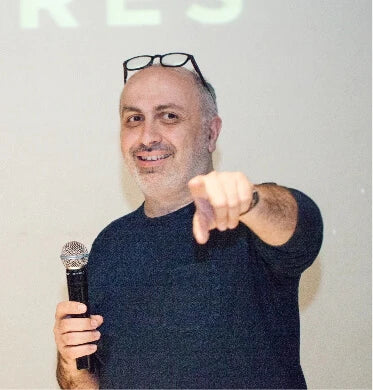 THE EARLY DAYS
"The pharmacy became a point of reference for Homeopathy doctors and patients from all over Greece. As I developed a deep knowledge of natural ingredients and their application in over 3,000 herbal remedies, I started thinking how those could be translated into solutions for skin concerns. At the same time our customers were asking for plant-based formulations to address dry skin, wrinkles, acne. I remember trying to find insights and data in books I had to order from abroad or get access to through libraries worldwide at a time when resources were limited. I spent hours in our tiny lab at the back of the pharmacy mixing ingredients, testing formulations, failing, trying all over again. Word of mouth kept bringing more customers to the pharmacy and gradually pharmacists who wanted to sell our formulations at their own pharmacies. In 1996 KORRES was born and our first ever product was launched. And it was not a face cream but a herbal sore-throat syrup with honey and aniseed. I was driven by my obsessions and the joy of making things I could be proud of". The herbal syrup was based on a traditional family recipe from Giorgos' homeland, the island of Naxos. This and the Melissa mix for all insect bites were the first ever formulations developed by Giorgos himself. Both remain the same to this day.
THE ENDLESS POWER OF NATURE
The pharmacy heritage is what differentiates KORRES; knowing herbs inside out, knowing how they work inside our body as natural remedies and how they work on it, as skincare solutions. Together with chemical engineer and co-founder Lena Korres, Giorgos envisioned to bring together the potency of the Greek flora with the unique local traditions through innovative natural formulations that he never expected would travel so far outside Greece, sealed with a 'Made in Athens' stamp, an authentic testament to the brand's roots. Promoting Greek nature, exploring and utilizing its treasures responsibly, working with local farmers, extracting active ingredients from the organic plants these farmers cultivate for KORRES, were all part of his vision from day one. Greece, Nature and Research.
OUR OWN EXTRACTION LAB
"In our early years we had to import Greek herbal extracts from exported Greek herbs, as Greece did not have extraction facilities. It took us years to create our own, first-for-Greece extractions lab, an exemplary unit among a handful at the time in Europe. We are fortunate to come from a county that is home to over 6,000 plant species, 1,200 out of which are endemic when most countries close to ours host a two-digit number of endemic plants. Greece is one of the richest global biodiversity hotspots, favored by its climate and soil. On the Acropolis rock alone, there are 300 different plants! Setting up our own Extraction Lab was a milestone in this journey of ours."
FROM SEED TO SKIN AND BACK
The Extraction Lab is part of the sustainable KORRES Full Circle from seed to skin and back, manifested through six labs; "our way of doing things with ethos" as Giorgos often remarks. Recognised for his drive, passion and true innovative approach in natural beauty, Giorgos was invited to open the first-of its-kind international Natural Beauty Summit held in Paris back in 2007, where the natural beauty industry got together for the first time to shape the future in natural cosmetics. He is still actively involved with scientific boards and industry organisations related to Homeopathy as well as Phytotherapy -his science-, Cosmetics and Natural Products -his ever-lasting passion. In his world of herbs, books, chess, design, films and basketball, Giorgos still takes every opportunity to go back to the island of Naxos, to his roots.